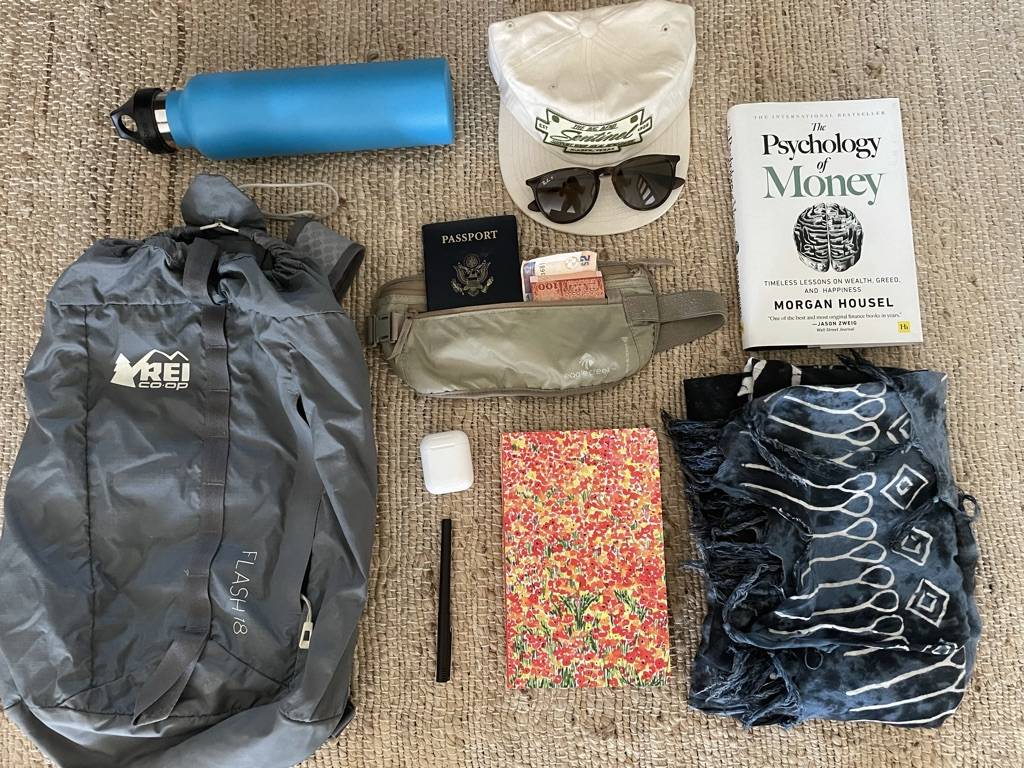 Denik has teamed up with Taylor, a traveler, entrepreneur, and long-time Denik customer, to gain some insight into what her travel essentials are. Here's what Taylor has to say:
"Traveling is something I'm very passionate about. I've spent time in Asia, North, South and Central America as well as the Mediterranean. Some trips were a few days, while others were a few months. Through my experiences, I've become an expert packer, and I know what I like to carry on me at all times when I'm out and about. With travel opening up more, what better time to show you what I keep in my day-pack!
Day Pack- First and fore-most is the day-pack itself. Tote? Pack? It can really be anything you fancy! However, I recommend light packs, with lots of pockets so you can easily get to all of your essentials without much rummaging.

Reusable, steel water bottle- Instead of constantly buying plastic one-time use water bottles at convenient stores, I carry a reusable, steel bottle. Since many airports and hostels/hotels have filtered water re-fill stations, it's easy to keep my bottle full. Getting one that keeps my water cold, especially when I'm in humid climates, was a game-changer.

Hat + Sunglasses- I carry these for pretty obvious reasons. If you're not wearing the hat, throw it in the pack or hook it on the strap, for easy sun-protection when you need it. As far as sunglasses go, I recommend polarized glasses- but, don't bring glasses you're not willing to lose or scratch because… it happens.

Wallet- Money and ID are definitely essentials you want to keep safe. When I'm traveling, I like to use a light fanny pack that I can easily toss in my day-pack or can inconspicuously wear for nights out or quick runs to the store.

Headphones- I always have a pair of headphones on me, especially if solo-traveling, so I can pop in some tunes on a bus, train or plane. Always make sure your music is downloaded to your phone before leaving wifi :)

Denik Notebook (or two) + a pen- I like to journal, especially when traveling, because I'd never want to forget the memories made, the people met, the jokes told, the food eaten, the games played, the sounds heard or the magic felt. I've documented each and every trip. 14 notebooks and 16 countries later, you can be certain I always have a notebook…. and usually a backup notebook for when I inevitably run out of room in the first.

Book- For on the beach, laying in a hammock, or dozing off to sleep- I always bring a book with me when I travel. The best part? Most hostels and even some Air BnBs and hotels have book exchanges, so once you're done with the one you brought, swap it out for a new one. Endless entertainment, and opportunities to read things you may have never found otherwise!

Sarong- The sarong is the most versatile item in my pack. I've used it as a blanket on cold planes and busses. I've used it to cover my head while running through the rain. I've used it as a make-shift sack to carry groceries. I've used it on the beach to lay on…. And dry off with…. And wear on the way home. The list goes on and on. Get a sarong :)"
We'd love to hear what YOUR travel essentials are. Leave a comment and let us know!